### Only BLUE available these are getting hard to find! ###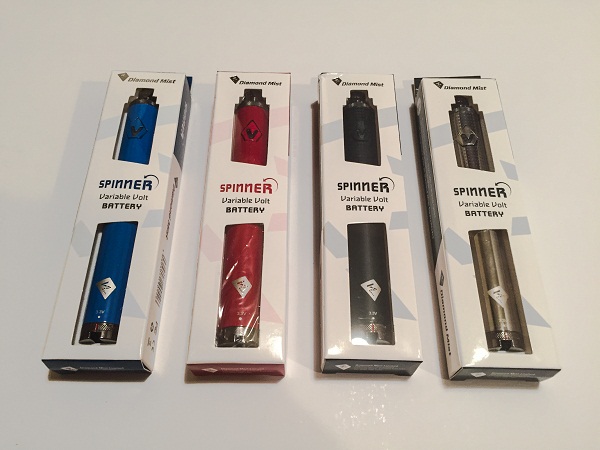 ### AVAILABLE IN BLACK, RED, STAINLESS SILVER AND BLUE! ###
###### ORIGINAL VISION 2 WITH DIAMOND MIST BRANDING! ######
Introducing the 1650mAh Vision II Spinner. Huge 1650mAh capacity with an EGO/510 thread. High quality build.
The base of the battery twists so you can select the amount of voltage you would prefer.
Also comes with a very handy battery life indicator, a white light indicates that the battery is 100% to 60% full, blue indicates 60% to 30% full and orange means it is 30% to 0% full.
Available in BLACK, RED, STAINLESS SILVER and BLUE.
This will work with all of our clearomizers (i.e EVOD, CE4, CE5, Aspire ET-S, T3S, iClear 16, iClear 30, Aerotank etc.)
Comes with the very handy 5-click ON/OFF feature. Simply press the button quickly 5 times to switch it on, and 5 times quickly to switch it off. What could be easier?
Although this item is branded to Diamond Mist it is a genuine Vision product.
Short circuit protection and improved PCB control head
Battery safety feature: press quickly 5 times to turn on/off
Can be adjusted from 3.3-4.8V volts in four different increments
Battery charge level indicator
FOR YOUR PEACE OF MIND AND SAFETY WE RECOMMEND THAT YOU USE A BATTERY CHARGING BAG WITH THIS ITEM.
1650mAh Variable Voltage Spinner Battery (Vision Spinner V2)
Brand: Vision
Product Code: 1650 MAH SPINNER
Availability: Out Of Stock
Tags: EGO, BATTERY, TWIST, VARIABLE VOLTAGE, SPINNER