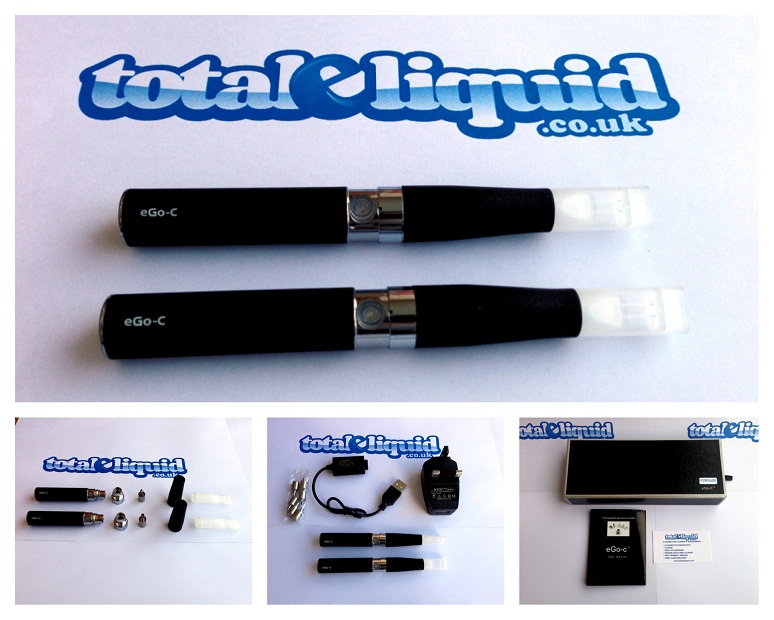 E-Cigarette's have come a long way from the "traditional" cigarette looking ones, the new Ego-C is a refillable and component replaceable system. With this system you simply fill the small tank with your choice of e-liquid and when it runs out simply top it up again!
It comes with two 650mah batteries and the "five click on-off" button on it, before inhaling you hold the button down, when not in use simply press the button quickly 5 times and your Ego-C is now switched off so it doesn't get inadvertantly pressed when in your pocket or handbag. To switch it on simply press it five times quickly and you're good to go!
When the atomizer needs changing it is very simple, you just unscrew the tank head and base and put a new one in, absolutely everything about this system is easy!
Includes a UK mains powered wall charger and the battery takes less than an hour to fully recharge from flat. With this system and its two batteries you will never be waiting around without a battery waiting for it to charge.
Comes complete with everything listed below including a very nice black box.
The Ego-C, the e-cigarette revolution is here!!!
The Ego-C 650mah starter kit contains the following:
2 x Battery 650 mah with 5 click protection
2 x Atomizer Cones
DOES NOT INCLUDE E-LIQUID, PLEASE PURCHASE THAT SEPARATELY ON OUR WEBSITE.
MANY THANKS. PLEASE NOTE: STARTER KIT COLOUR MAY VARY FROM THE PICTURES.
FOR YOUR PEACE OF MIND AND SAFETY WE RECOMMEND THAT YOU USE A BATTERY CHARGING BAG WITH THIS ITEM.
Ego-C Starter Kit in Gift Box
Product Code: egoCstarterBOX
Availability: Out Of Stock
Tags: Starter Kit, Ego-C, E-cigarettes