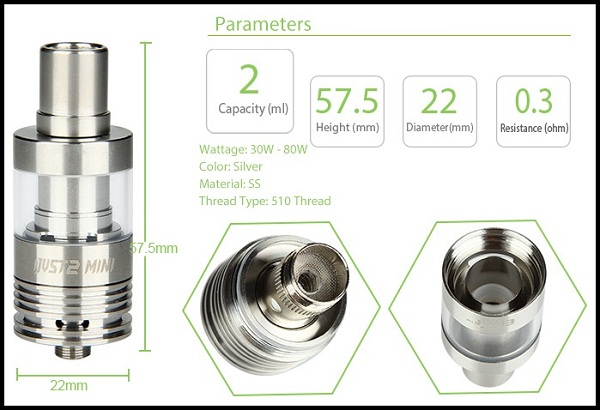 Introducing the Eleaf iJust Mini Tank in silver!
The European Union TPD arrticle 20 will decimate our tank range (all tanks over 2ml will be BANNED) so we are introducing a lot of 2ml or below tanks, and this is another one of them. A subohm tank with a 2ml capacity combined with adjustable airflow this tank is one of the very best in modern vaping technology!
The Eleaf iJust 2 mini tank features a generous 2ml e-liquid capacity. Compatible with the EC atomizer heads, the Eleaf iJust 2 mini tank can be used on a wide range of e-cigarettes and will give a great sub-ohm vaping experience.
Adjustable airflow is achieved using a silicone ring and heat fins will aid to dissipate any excess heat from the atomizer.
Kit contains:
1x Eleaf iJust 2 Mini Atomizer
1x iJust 2 Mini Mouthpiece
1x iJust 2 Mini Atomizer Tube
1×EC Head (0.3ohm)
1x iJust 2 Mini Atomizer Standard Base
1×Airflow Control Ring
1×User Manual
Spec:
Length: 57.5mm
Diameter: 22mm
Atomizer Resistance: 0.3ohm
Thread Type: 510 connection
Material: Stainless Steel
GENUINE ELEAF PRODUCT.
This tank is TPD COMPLIANT as the tank capacity is 2ml or under.
Eleaf iJust 2 Mini Tank 2ml
Brand: Eleaf
Product Code: ELEAF-IJUST-2
Availability: Out Of Stock
Related Products
Tags: ELEAF, IJUST, TANK, CLEAROMIZER