### PERFECT STARTER E-CIG KIT FOR NEW USERS!!! NOW ONLY £7.99 TOO!!! ###
### THAT IS LESS THAN A PACKET OF 20 CIGS! IT'LL LAST A LOT LONGER TOO. ;-) ###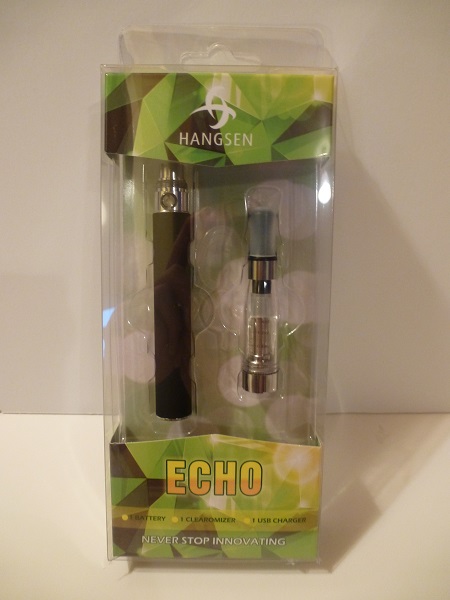 Introducing the Hangsen ECHO starter kit with 1100mAh battery.
The ECHO starter kit comes with everything that you need (minus e-liquid) to get you started at a very very nice price. This kit at current cost is just over the price of 20 cigarettes but it will last you a lot longer than 20 cigs! See the potential in making the switch to vaping and start saving money today!!
Just open it up, charge the battery, fill the cartomiser with your favourite juice, screw it together and away you go!!
5 click "on-off" protection on the battery: Simply click it 5 times to switch it on, and when you want to switch it off simply click it 5 times to switch it off, simples! This is ideal for when you don't want to accidentally activate it (like when it is in your pocket for example.) The battery takes less than 2 hours to fully charge and it also comes with a safety mechanism built in that will automatically switch it off if you depress the button for more than 10 seconds.
To charge the battery simply connect it to any USB socket, red means it's charging and green means it's fully charged.
This is very similar to our ego-T £5.99 blister pack but the difference is that this one has a much larger battery on it so you will get longer vaping between charges.
Don't piss around with the crappy "Cig-a-likes" (the ones that look like ciggies), get yourself one of these, you won't regret doing so!
The Hangsen ECHO 1100mAh starter kit contains the following:
1 x CE4 Clearomiser that holds approximately 1.6ml of e-liquid
1 x eGo 1100mAh battery with 5-click on-off protection
DOES NOT INCLUDE E-LIQUID, PLEASE PURCHASE THAT SEPARATELY ON OUR WEBSITE.
MANY THANKS.
FOR YOUR PEACE OF MIND AND SAFETY WE RECOMMEND THAT YOU USE A BATTERY CHARGING BAG WITH THIS ITEM.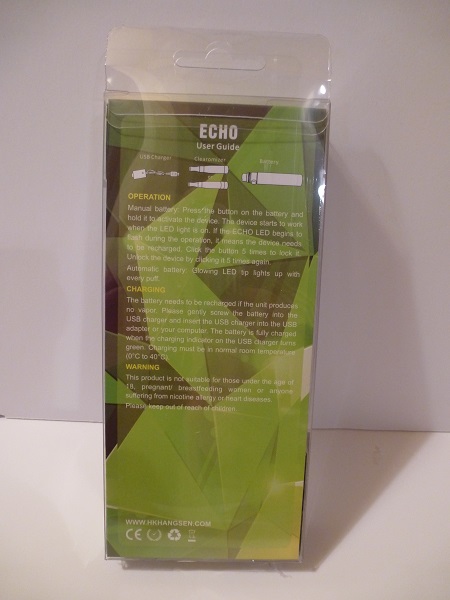 This kit is TPD COMPLIANT as the tank is under 2ml in capacity.
Hangsen ECHO Starter Kit Black (1100mAh Battery)
Product Code: Hangsen ECHO Starter
Availability: Out Of Stock
Related Products
Tags: Starter Kit, ECHO-D, E-cigarettes, EGO