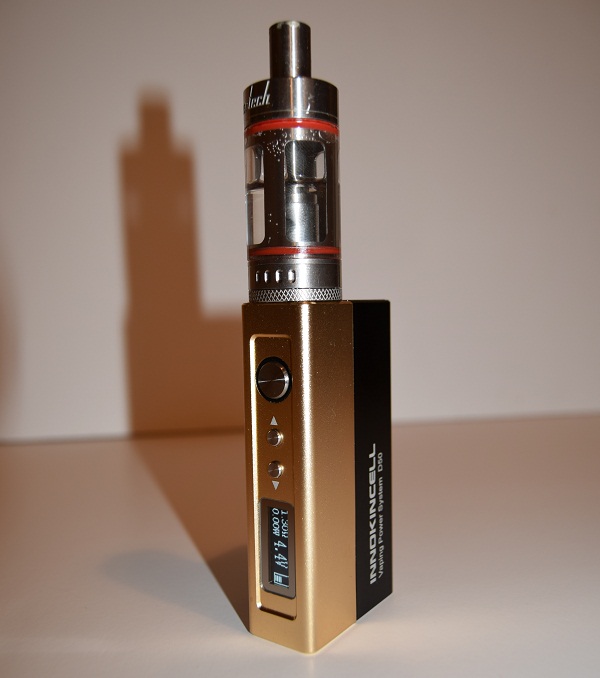 PICTURED: INNOKIN DISRUPTER GOLD & BLACK WITH A SUBTANK PLUS ON TOP.
Introducing the Innokin DISRUPTER Mod including 2000mAh battery cell!
The boys at Innokin loaded up the random words for their "What do we call our next kit" and it ended up being called the Disrupter. Your guess is as good as ours but don't be fooled by the name this is a very nice bit of kit!
Innokin have a great reputation for making simple but beautiful components.
It comes with quite a few combinations but we chose the two most popular to start with and the ones that we think look the best. We opted for the black and gold, that looks superb. And also we opted for another great combo which is blue and silver. They can both be seen in the product picture above (click to enlarge.)
It has a fantastic feel to it as is the case with all Innokin products, it has been put together very well indeed.
This will fit pretty much any clearomizer that we sell including the Aspire BDC, iClear 16, iClear 30, EVOD, T3S, Kanger Aerotank, Kanger Subtank Mini, Kanger Subtank Plus, Kanger EVOD Mega, Aspire Nautilus, CE4 and CE5. It will however perform better with a decent sized tank on it.
It also comes with a nice bright OLED screen that displays very clearly the remaining battery life, wattage or voltage setting and also incorporates a puff counter and an ohm meter.
Genuine Innokin product.
Vital statistics:
Operating Voltage: 3.0V-7.5V
Operating Wattage: 6.0W-50W
Clearomizer Resistance: 0.2ohm
Charging: Micro USB DC5V/1A
Large Bright OLED Screen
Left/Right Screen Flip
Large Durable buttons
InnokinCell Slide n' Lock System
15 second cutoff
Remembers last Voltage or Wattage setting
Ohms Meter & Battery Level Indicator & Puff Counter
Complete kit including the following:
1 x Disrupter body in either gold or silver
1 x Innocell 2000mAh battery unit
1 x USB Charging Cable
1 x Instruction Booklet
Please note that some e-cig vendors are selling this without the battery pack so it may at first glance look like they are way cheaper than us, but we are selling this as the complete package to avoid any disappointment when you add on the battery pack.
Innokin DISRUPTER (Complete with Innocell battery cell)
Brand: Innokin
Product Code: INNOKIN-DISRUPTER-COMPLETE
Availability: Out Of Stock
Related Products