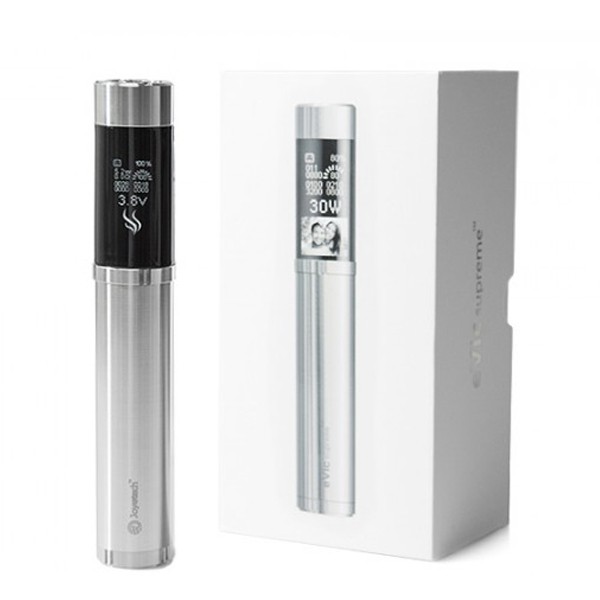 Introducing the Joyetechâ"¢ eVic Supreme in brushed silver or black!
The eVic Supreme is an upgrade over the standard eVic with a much larger OLED display and a voltage increase up to 6 volts (or 30 watts.)
It can also be used as a passthrough whilst on charge meaning that you can still vape with it while charging the battery.
With a huge display and many functions including the ability to upload data from the eVic to your PC/laptop and make changes to the unit via your PC/laptop this is taking vaping to the next level! You can download the software from the Joyetech website then connect the eVic to your PC or laptop to track your vaping progress and make adjustments to the unit.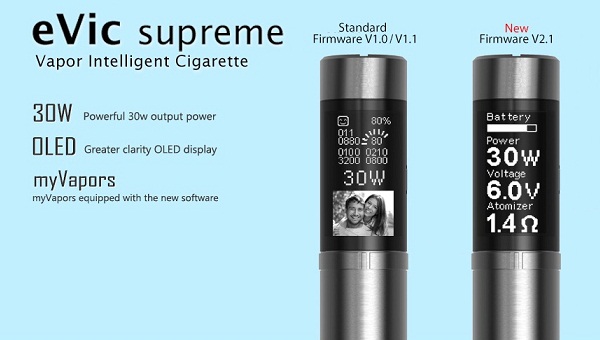 Please observe the image above, it comes with v1.1 software installed as standard but there is the option to upgrade it to v2.1 as demonstrated in the above pic. With the 2.1 firmware there are less stats displayed on the OLED screen and the font is much bolder with only the main functions displayed. This gives you the best of both worlds because if you love tons of stats you are covered with v1.1, and if you prefer less stats in a stripped down version (v2.1) you are also covered. :-)
It has a large digital OLED display with absolutely tons of settings, far too many to mention here but comprehensively covered in the instruction manual. A rotatable disk just under the OLED display on the unit enables you to scroll through the many menu options by simply twisting the disk around and then selecting the different functions using the main button.
Some of the features included are a puff counter with number of puffs and puffs remaining with the current amount of charge in the battery, the ability to put a 4 digit passcode lock on the device, your own screensaver picture and time and date display.
The eVic Supreme kit contains the following items:
1 x eVic Supreme Control Head Unit
1 x eVic Supreme Battery Tube
1 x Sony 2100mAh Rechargeable 18650 battery (US18650VTC4)
1 x USB 3-pin wall plug
1 x Joyetech Warranty Card with scratch check to check the authenticity.
1 x MVR (My Vapo(u)r Record) Instruction Booklet. This is for connecting the eVic to your PC or laptop.
Joyetech eVic Supreme
Brand: Joyetech
Product Code: JOYE-EVIC-SUPREME
Availability: Out Of Stock
Related Products